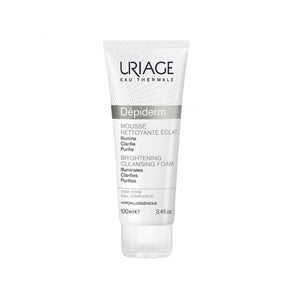 URIAGE DÉPIDERM BRIGHTENING CLEANSING FOAM Rich in Uriage Thermal Water and brightening active ingredients, this creamy foam gently cleanses and purifies the skin, while leaving it fresh and luminous.
Purifies and illuminates the skin
Its gentle washing base cleanses the skin without causing aggression.
Clarifies the complexion
Its creamy formula clarifies the skin, while preparing it to receive its adapted skincare. The complexion is fresh and clean. It is luminous, even, and like glowing with health.
HOW TO USE: 
Lather a dab of the product in hands, apply directly on wet face and massage gently. Rinse thoroughly . Use morning and evening
يورياج ديبديرم برايتننج كلينسينج فوم غنية بمياه يورياج الحرارية والمكونات النشطة المشرقة ، هذه الرغوة الكريمية تنظف البشرة وتنقيها بلطف ، بينما تتركها منتعشة ومشرقة
ينقي وينير البشرة
قاعدة الغسيل اللطيفة تنظف البشرة دون التسبب في العدوان
تعمل تركيبته الكريمية على تنقية البشرة ، مع تحضيرها لتلقي العناية بالبشرة المكيفة. بشرة جديدة ونظيفة
:طريقة الاستخدام
ضعي القليل من المنتج في اليدين ، ضعيه مباشرة على الوجه المبلل ودلكيه بلطف. اشطفي جيدا  يستخدم صباحا و مساء
yara daoud
استخدمتو ل بشرتي الدهنيه ، ما حبيتو ابدا ابدااا
.
ما ناسب بشرتي الدهنيه طلعلي حبوب و رؤوس سوده و بيضاء ، اختي بشترها مختلطه ل جافه ناسبها