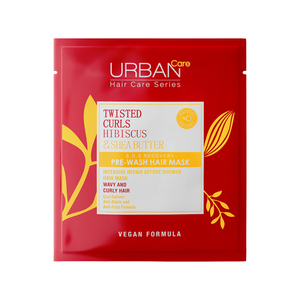 URBAN CARE TWISTED CURLS HIBISCUS & SHEA BUTTER PRE HAIR MASK enhancing Pre-Shower Hair Mask is specially formulated for wavy, curly , frizzy hair. High in antioxidants and rich in Vitamin A and C, it helps increase the natural softness of the hair by moisturizing, repairing damaged curls and reducing frizz. It helps you to control frizzy by locking moisture in the curls and to reach more defined curls.
Paraben free. Vegan formula.
HOW TO USE:
Apply on dry hair;
Leave for 5 minutes and rinse;
Wash your hair with a hair shampoo.
اربن كير توستيد كيرلز هبسكس & شيا بتر بري هير ماسك تم تصميم قناع تعزيز الشعر قبل الاستحمام خصيصًا للشعر المموج والمجعد والمتطاير. غني بمضادات الأكسدة وغني بفيتامين A و C ، فهو يساعد على زيادة النعومة الطبيعية للشعر عن طريق ترطيب وإصلاح تجعيد الشعر التالف وتقليل التجعد. يساعدك على التحكم في التجعد عن طريق قفل الرطوبة في تجعيد الشعر والوصول إلى تجعيد أكثر تحديدًا.
بارابين مجانا. صيغة نباتية.
طريقة الاستخدام:
يوضع على الشعر الجاف.
اتركيه لمدة 5 دقائق ثم اشطفيه.
اغسلي شعرك بشامبو للشعر.