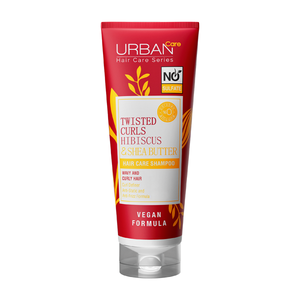 URBAN CARE TWISTED CURLS HIBISCUS & SHEA BUTTER NO SULFATE SHAMPOO 250ML enhancing Hair Care Shampoo formulated for wavy and curly hair that is dry, fuzzy and frizzy. Thanks to its nourishing formula high in antioxidants and rich in vitamins A and C, it helps increase the natural softness of the hair by moisturizing your hair, repairing damaged curls and reducing frizz, protection, repair and resistance against damage.
Helps you get the perfect curls by moisturizing your hair;
Helps style and define your curls;
Nourishes, soothes and shapes your hair;
Provides softness and shine without weighing hair down;
Sulfate, silicon and paraben free;
Vegan. Free of animal derived ingredients.
HOW TO USE:
Apply to wet hair;
Massage;
Rinse.
اربن كير تويستيد كيرلز هبسكس & شيا بتر نو سالفيت شامبو 250مل شامبو معزز للعناية بالشعر مُصمم للشعر المتموج والمجعد الجاف والمتطاير والمتطاير. بفضل تركيبته المغذية الغنية بمضادات الأكسدة والغنية بالفيتامينات A و C ، فهو يساعد على زيادة النعومة الطبيعية للشعر عن طريق ترطيب شعرك وإصلاح التجعيدات التالفة وتقليل التجعد والحماية والإصلاح والمقاومة ضد التلف.
يساعدك في الحصول على تجعيد الشعر المثالي عن طريق ترطيب شعرك.
يساعد على تصفيف الشعر وتحديد تجعيداتك.
يغذي شعرك ويلطفه ويشكله.
يمنح الشعر نعومة ولمعاناً دون أن يثقله.
خالي من الكبريتات والسيليكون والبارابين.
نباتي. خالية من المكونات المشتقة من الحيوانات.
طريقة الاستخدام:
تنطبق على الشعر الرطب.
تدليك.
شطف.