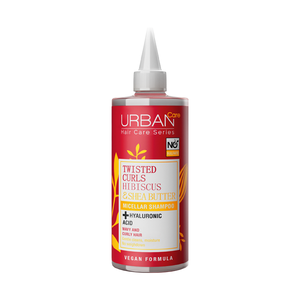 URBAN CARE TWISTED CURLS HIBISCUS & SHEA BUTTER MICELLAR SHAMPOO 340ML for dry, frizzy, electrified, wavy and curly hair. • With its sulfate-free formula, Micellar Shampoo gently cleans your scalp and helps moisturize your curls. • If you feel that your curls are getting heavy, you can start the renewal of your hair care routine with URBAN Care Micellar Shampoo containing Salicylic and Hyaluronic Acid! • With its nourishing Hibiscus Flower and Shea Butter rich in vitamins A and C, it reduces the electrification of the curls and provides shine and smoothness. • With Hyaluronic Acid, which has a plumping effect, it helps to moisturize the curls without weighing them down, and to reduce breakage and shedding. • Micellar Shampoo, with its dense foam structure, acts as a magnet to remove dirt, oil and residues on the hair roots. • With salicylic acid in its specially developed formula, it moisturizes the dry scalp and helps to get rid of the exfoliated skin. • It supports you to get deeply cleaned, full and healthy looking curls. • It does not contain silicone and paraben.
HOW TO USE:
Apply to wet hair;
Massage;
Rinse.
اربن كير توستد كيرلز هبسكس & شيا بتر ميسلر شامبو 340مل للشعر الجاف والمتطاير والمكهرب والمموج والمجعد. • بفضل تركيبته الخالية من الكبريتات ، ينظف شامبو ميسيلار فروة رأسك بلطف ويساعد على ترطيب تجعيد الشعر. • إذا شعرت أن تجعيد الشعر يزداد ثقلاً ، يمكنك البدء في تجديد روتين العناية بشعرك باستخدام شامبو URBAN Care Micellar الذي يحتوي على حمض الساليسيليك وحمض الهيالورونيك! • بفضل زهرة الكركديه المغذية وزبدة الشيا الغنية بفيتامينات A و C ، فإنها تقلل تجعيد الشعر بالكهرباء وتوفر لمعانًا ونعومة. • مع حمض الهيالورونيك ، الذي له تأثير ممتلئ ، فهو يساعد على ترطيب تجعيد الشعر دون إثقالها ، وتقليل التكسر والتساقط. • شامبو ميسيلار ، بتركيبته الرغوية الكثيفة ، يعمل كمغناطيس لإزالة الأوساخ والزيوت والبقايا من جذور الشعر. • مع حمض الساليسيليك في تركيبته المطورة خصيصًا ، فهو يرطب فروة الرأس الجافة ويساعد على التخلص من الجلد المتقشر. • يساعدك في الحصول على خصلات شعر نظيفة وكاملة وصحية. • لا يحتوي على السيليكون والبارابين.
طريقة الاستخدام:
تنطبق على الشعر الرطب.
تدليك.
شطف.