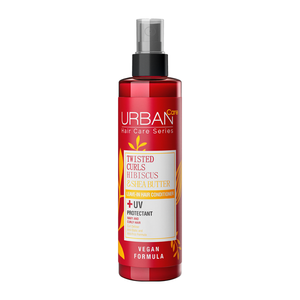 URBAN CARE TWISTED CURLS HIBISCUS & SHEA BUTTER LEAVE IN CONDITIONER SPRAY 200ML enhancing Two Phase Liquid Hair Conditioner formulated for wavy or curly hair that is dry, fuzzy and frizzy.
Thanks to its nourishing formula high in antioxidants and rich in vitamins A and C, it helps increase the natural softness of the hair by moisturizing your hair, repairing damaged curls and reducing frizz. Provides easy combing. Contains UV filter.
Paraben free. Vegan formula.
HOW TO USE:
Shake well before use;
Apply evenly to your wet or damp hair ends and comb with the help of a wide tooth combe before styling;
Do not rinse;
The product can be applied on dry hair during the day.
اربن كير تويستيد كيرلز هبسكس & شيا بتر ليف ان كوندشنر سبريه 200مل بلسم سائل معزز مرحلتين للشعر المجعد أو المجعد الجاف والمتطاير والمتطاير. بفضل تركيبته المغذية الغنية بمضادات الأكسدة والغنية بالفيتامينات A و C ، فهو يساعد على زيادة النعومة الطبيعية للشعر عن طريق ترطيب شعرك وإصلاح تجعيد الشعر التالف وتقليل التجعد. يوفر سهولة في التمشيط. يحتوي على فلتر للأشعة فوق البنفسجية.
بارابين مجانا. صيغة نباتية.
طريقة الاستخدام:
يرج جيدا قبل الاستخدام.
ضعيه بالتساوي على أطراف شعرك المبللة أو الرطبة ومشطيه بمساعدة مشط واسع الأسنان قبل تصفيفه.
لا تشطف.
يمكن وضع المنتج على الشعر الجاف خلال النهار.