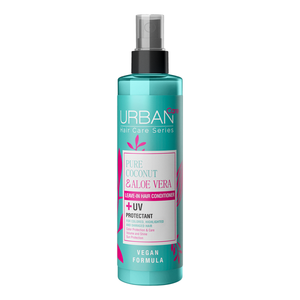 URBAN CARE PURE COCONUT & ALOE VERA LEAVE IN CONDITIONER 200ML color Protecting Two Phase Liquid Hair Conditioner with Pure Coconut Oil and Aloe Vera is developed for colored, highlightened and damaged hair. Makes the hair color last longer and restores its shine. Provides soft, silky hair and easy combing. Does not weigh the hair down. Contains UV filter and protects the hair against the sun.
Paraben free. Vegan formula
HOW TO USE:
Shake well;
Spray on towel dried or dry hair and comb through;
Do not rinse.
اربن كير بيور كوكنت & الو فيرا لايف ان كوندشنر 200مل تم تطوير بلسم الشعر السائل ذو المرحلتين لحماية اللون بزيت جوز الهند النقي والصبار للشعر الملون والمميز والتالف. يجعل لون الشعر يدوم لفترة أطول ويعيد لمعانه. يمنحك شعراً ناعماً وحريرياً ويسهل تمشيطه. لا تثقل الشعر. يحتوي على فلتر للأشعة فوق البنفسجية ويحمي الشعر من أشعة الشمس.
بارابين مجانا. صيغة نباتية
طريقة الاستخدام:
هز جيدا.
يرش على الشعر المجفف أو الجاف بالمنشفة ويمشط.
لا تشطفه.