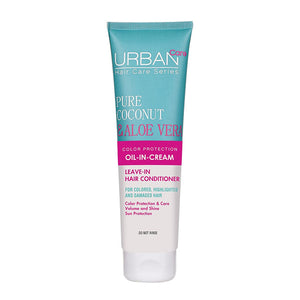 URBAN CARE PURE COCONUT & ALOE VERA COLOR PROTECTION-OIL IN-CREAM 150ML color Protecting Leave-in Hair Conditioner with Pure Coconut Oil and Aloe Vera is developed for colored, highlightened and damaged hair. Makes the hair color last longer and restores its shine. Provides soft, silky hair and easy combing. Does not weigh the hair down and reduces static electricity. Contains UV filter and protects the hair against the sun.
Silicone and paraben free. Vegan formula.
HOW TO USE:
Apply to wet or damp hair strands and tips;
Do not rinse;
For intensive hair care, apply to all parts of the hair as mask before washing the hair.
اربن كير بيور كوكنت & الو فيرا كولار بروتيكشن اويل ان كريم 150مل تم تطوير بلسم الشعر الذي يترك على الشعر لحماية اللون بزيت جوز الهند النقي والصبار للشعر الملون والمميز والتالف. يجعل لون الشعر يدوم لفترة أطول ويعيد لمعانه. يمنحك شعراً ناعماً وحريرياً ويسهل تمشيطه. لا يثقل الشعر ويقلل من الكهرباء الساكنة. يحتوي على فلتر للأشعة فوق البنفسجية ويحمي الشعر من أشعة الشمس.
خالي من السيليكون والبارابين. صيغة نباتية.
طريقة الاستخدام:
ضعيه على خصلات وأطراف الشعر المبللة أو الرطبة.
لا تشطف.
للعناية المركزة بالشعر ، ضعيه على جميع أجزاء الشعر كقناع قبل غسل الشعر.