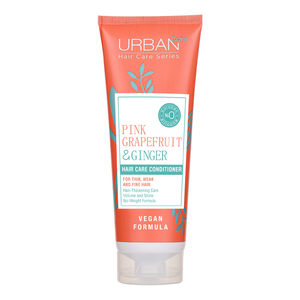 URBAN CARE PINK GRAPEFRUIT & GINGER CONDITIONER 250ML plumping Conditioner with Pink Grapefruit and Ginger; Developed for thin, weak and voluminous hair. Its specially developed formula makes thin and weak hair look voluminous and full. Thanks to the special actives it contains, it nourishes the hair and gives it shine. Thanks to its plumping effect, it supports you to have voluminous and strong hair that is strengthened from root to tip. It provides silky softness and easy combing. Doesn't make hair heavy.
HOW TO USE:
Daily care Massage into wet hair ends after shampooing and rinse.
اربن كير بينك جريبفروت & جنجر كوندشنر 250مل بلسم ممتلئ الجسم بالجريب فروت الوردي والزنجبيل ؛ تم تطويره للشعر الرقيق والضعيف والكثيف. إن تركيبته المطورة خصيصًا تجعل الشعر الرقيق والضعيف يبدو كثيفًا وممتلئًا. بفضل العناصر النشطة التي يحتويها ، فإنه يغذي الشعر ويمنحه لمعانًا. بفضل تأثيره الممتلئ ، فهو يدعمك للحصول على شعر كثيف وقوي يتم تقويته من الجذور إلى الأطراف. يوفر نعومة كالحرير وتمشيط سهل. لا تجعل الشعر ثقيلاً.
طريقة الاستخدام:
تدليك العناية اليومية على الشعر المبلل بعد غسل الشعر بالشامبو وشطفه.