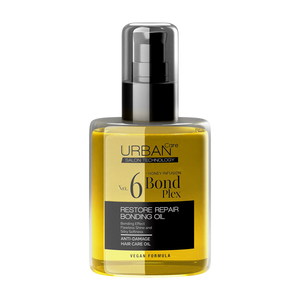 URBAN CARE NO:6 BOND PLEX  RESTORE REPAIR BONDING OIL 100ML repair oil for chemically treated and very damaged hair. Deeply hydrates the hair and helps to restore the hair. Calms unruly hair and helps reduce static electricity. The formulation enriched with honey extract makes hair shiny, smooth and soft. Bond Plex technology retains the necessary moisture of the hair, making it strong and more resistant to damage from heat styling. Maintains the stability of the color of dyed hair, protects it from chemical treatments and negative effects of the external environment.
For more effective results, use products from the same collection.
No parabens. Vegan formula. Cruelty free.
HOW TO USE:
Apply a small amount of oil to wet or dry hair, then style;
It can be used daily.
اربن كير نمبر 6 بليكس ريستور ريبير بوندنج اويل 100مل زيت مصلح للشعر المعالج كيميائيا والمتضرر جدا. يرطب الشعر بعمق ويساعد على ترميمه. يهدئ الشعر الجامح ويساعد على تقليل الكهرباء الساكنة. تركيبة غنية بخلاصة العسل تجعل الشعر لامعًا وناعمًا وناعماً. تحتفظ تقنية Bond Plex بالرطوبة اللازمة للشعر ، مما يجعله قويًا وأكثر مقاومة للتلف الناتج عن التصفيف الحراري. يحافظ على ثبات لون الشعر المصبوغ ، ويحميه من العلاجات الكيميائية والآثار السلبية للبيئة الخارجية.
للحصول على نتائج أكثر فعالية ، استخدم منتجات من نفس المجموعة.
خالٍ من البارابين. صيغة نباتية. القسوة المجانية.
طريقة الاستخدام:
ضعي كمية صغيرة من الزيت على شعر مبلل أو جاف ، ثم صففيه.
يمكن استخدامه يوميا.