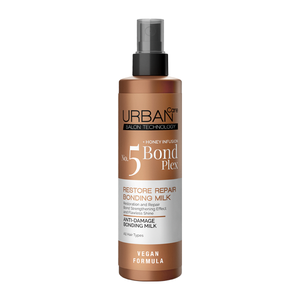 URBAN CARE NO:5 BOND PLEX RESTORE REPAIR BONDING MILK 200ML repair milk for chemically treated and very damaged hair. Deeply hydrates the hair and makes combing easier. It nourishes the hair and reconstructs it, giving it shine. The special formula enriched with honey extract nourishes the hair making it soft and smooth. Bond Plex technology retains the necessary moisture of the hair, maintains the stability of the color of dyed hair, makes it stronger and more resistant to damage from heat styling, chemical treatments and negative effects of the external environment.
Without harmful sulfates and parabens. Vegan formula. Cruelty free.
HOW TO USE:
Apply milk to wet or dry hair, then style;
It can be used daily.
اربن كير نمبر 5 بوند بليكس ريستور ريبير بوندنج ملك 200مل مرمم الحليب للشعر المعالج كيميائياً والمتضرر جداً. يرطب الشعر بعمق ويجعل التمشيط أسهل. يغذي الشعر ويعيد بناءه ويمنحه لمعاناً. تركيبة خاصة غنية بمستخلص العسل تغذي الشعر وتجعله ناعمًا وسلسًا. تحتفظ تقنية Bond Plex بالرطوبة اللازمة للشعر ، وتحافظ على ثبات لون الشعر المصبوغ ، وتجعله أقوى وأكثر مقاومة للتلف الناتج عن التصفيف الحراري والمعالجات الكيميائية والآثار السلبية للبيئة الخارجية.
خالي من الكبريتات والبارابين الضارة. صيغة نباتية. القسوة المجانية.
طريقة الاستخدام:
ضعي الحليب على شعر مبلل أو جاف ثم صففيه.
يمكن استخدامه يوميا.