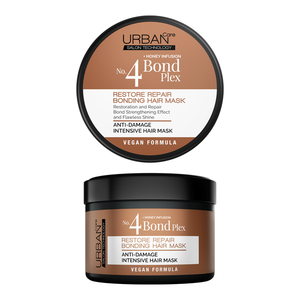 URBAN CARE NO:4 BOND PLEX RESTORE REPAIR BONDING HAIR MASK 230ML is developed to repair over-processed and excessively damaged hair and prevent further damage to hair strands. It helps repair and strengthen damaged hair bonds. It also hydrates hair, giving it a shiny look and elasticity. It helps smoothen and rebuild the hair texture. Supported with precious honey, its specially-developed formula hydrates hair and makes it look soft and shiny. Bond Plex technology covers the hair cuticule and split ends, helping protect the hair before heat styling.
For more effective results, use products from the same collection.
No parabens. Vegan formula. Cruelty free.
HOW TO USE:
Apply the mask to clean and dump hair;
Leave it on hair for 2 to 3 minutes, then rinse;
Use once or twice a week.
اربن كير نمبر 4 بوند بليكس ريستور ريبير بوندنج هير ماسك 230مل تم تطويره لإصلاح الشعر الزائد والمعالج بشكل مفرط ولمنع المزيد من التلف لخيوط الشعر. يساعد في إصلاح وتقوية روابط الشعر التالفة. كما أنه يرطب الشعر ويمنحه مظهرًا لامعًا ومرونة. يساعد على تنعيم ملمس الشعر وإعادة بنائه. مدعوم بالعسل الثمين ، تركيبته المطورة خصيصًا ترطب الشعر وتجعله يبدو ناعمًا ولامعًا. تغطي تقنية Bond Plex بشرة الشعر والأطراف المتقصفة ، مما يساعد على حماية الشعر قبل تصفيفه بالحرارة. للحصول على نتائج أكثر فعالية ، استخدم منتجات من نفس المجموعة.
خالٍ من البارابين. صيغة نباتية. القسوة المجانية.
طريقة الاستخدام:
ضعي القناع لتنظيف وتفريغ الشعر.
اتركيه على الشعر لمدة 2 إلى 3 دقائق ، ثم اشطفيه.
استخدام مرة واحدة أو مرتين في الأسبوع.