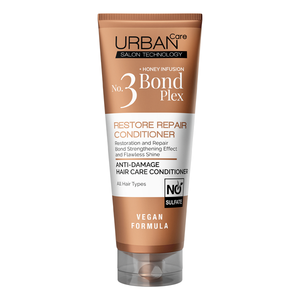 URBAN CARE NO:3 BOND PLEX RESTORE REPAIR CONDITIONER 250ML balm hydrates chemically treated and very damaged hair without weighing it down. The special formula, enriched with honey extract, restores the hair and hydrates the hair, making it soft and shiny. Calms unruly hair and helps reduce static electricity. Bond Plex technology retains moisture in the hair, maintains the stability of dyed hair color, makes it stronger and more resistant to damage from heat styling, chemical treatments and negative environmental influences.
No parabens. Vegan formula. Cruelty free.
HOW TO USE:
After using the shampoo on wet hair, apply the required amount of conditioner;
Leave it on for 5 minutes and then rinse;
Can be used daily;
After the conditioner, the Bond Plex mask can be used to increase the hair's ability to retain moisture.
اربن كير نمبر 3 بوند بليكس ريستور ريبير كوندشنر 250مل بلسم يرطب الشعر المعالج كيميائياً والشديد التالف دون إثقاله. تركيبة خاصة غنية بخلاصة العسل ، تعيد ترطيب الشعر وتجعله ناعماً ولامعاً. يهدئ الشعر الجامح ويساعد على تقليل الكهرباء الساكنة. تحتفظ تقنية Bond Plex بالرطوبة في الشعر ، وتحافظ على ثبات لون الشعر المصبوغ ، وتجعله أقوى وأكثر مقاومة للتلف الناتج عن التصفيف الحراري والمعالجات الكيميائية والتأثيرات البيئية السلبية.
خالٍ من البارابين. صيغة نباتية. القسوة المجانية.
طريقة الاستخدام:
بعد استخدام الشامبو على الشعر الرطب ، ضعي الكمية المطلوبة من البلسم.
اتركيه لمدة 5 دقائق ثم اشطفيه.
يمكن استخدامها يوميا.
بعد البلسم ، يمكن استخدام قناع Bond Plex لزيادة قدرة الشعر على الاحتفاظ بالرطوبة.