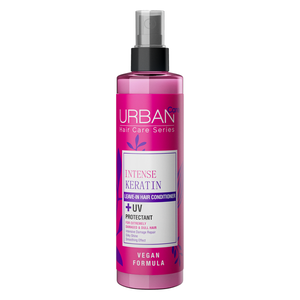 URBAN CARE INTENSE & KERATIN LEAVE IN CONDITIONER SPRAY 200ML intense keratin deep damage repairing and smoothing two phase liquid hair conditioner is formulated for deeply damaged, dry, matte, and dull hair. Specially developed formula helps to make deeply damaged and dull hair look smoother and shinier. Thanks to its smoothing effect, helps you to get shiny, health, volumized, and strong hair from roots to ends. Helps restructure the hair and provides the hair with protection, repair, and resistance against damage thanks to the keratin in its formula. Provides silky softness and easy combing. Does not weigh down hair. Contains UV filter. Vegan free.
HOW TO USE:
Shake well;
Spray on towel dried or dry hair and comb through;
Do not rinse.
اربن كير انتينس & كرتين ليف ان كوندشنر سبريه 200مل بلسم الشعر السائل المكون من مرحلتين لإصلاح الضرر العميق بالكيراتين ومنعم الشعر. تساعد التركيبة المطورة خصيصًا على جعل الشعر التالف والعميق يبدو أكثر نعومة ولمعانًا. بفضل تأثيره الملطف ، يساعدك في الحصول على شعر لامع وصحي ومكثف وقوي من الجذور حتى الأطراف. يساعد على إعادة هيكلة الشعر ويمنحه الحماية والإصلاح والمقاومة ضد التلف بفضل الكيراتين في تركيبته. يمنحك نعومة حريرية وتمشيط سهل. لا تثقل الشعر. يحتوي على فلتر للأشعة فوق البنفسجية. نباتي مجاني.
طريقة الاستخدام:
هز جيدا.
يرش على الشعر المجفف أو الجاف بالمنشفة ويمشط.
لا تشطفه.