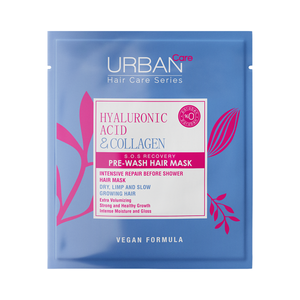 URBAN CARE HYALURONIC ACID & COLLAGEN S.O.S RECOVERY PRE-HAIR MASK for dry, limp and slow growing hair. Contains Hyaluronic Acid and Collagen.
Extra volumizing;
Strong and healthy hair growth;
Intense moisture and gloss.
0% paraben. Cruelty-free. Vegan formula.
HOW TO USE:
Apply on dry hair;
Leave for 5 minutes and rinse;
Wash your hair with a hair shampoo.
اربن كير هايلورنك اسد & كولاجين اس او اس ريكوفيري بري-هير ماسك للشعر الجاف والمتعرج وبطيء النمو. يحتوي على حمض الهيالورونيك والكولاجين.
حجم إضافي
نمو شعر قوي وصحي.
رطوبة شديدة ولمعان.
0٪ بارابين. القسوة المجانية. صيغة نباتية.
طريقة الاستخدام:
يوضع على الشعر الجاف.
اتركيه لمدة 5 دقائق ثم اشطفيه.
اغسلي شعرك بشامبو للشعر.