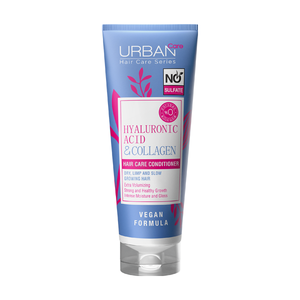 URBAN CARE HYALURONIC ACID & COLLAGEN NO SULFATE CONDITIONER 250ML for dull, lifeless, limp and damaged hair. Leaves hair thicker, smoother, voluminous, healthy, strong and shiny. It promotes strong and healthy hair growth. Hyaluronic Acid restores hair's moisture level and improves hair elasticity.
Sulfate, silicon and paraben free. Cruelty-free. Vegan formula.
HOW TO USE:
Massage the conditioner on hair tips.
اربن كير هايلورنك اسد & كولاجين  نو سالفيت كوندشنر 250مل للشعر الباهت والحيوي والمتعرج والتالف. يترك الشعر أكثر كثافة ونعومة وكثافة وصحة وقوية ولامعة. يعزز نمو الشعر القوي والصحي. يعيد Hyaluronic Acid مستوى رطوبة الشعر ويحسن مرونة الشعر.
خالي من الكبريتات والسيليكون والبارابين. القسوة المجانية. صيغة نباتية.
طريقة الاستخدام:
دلكي البلسم على أطراف الشعر.