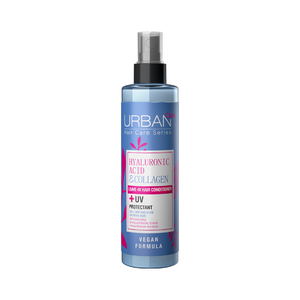 URBAN CARE HYALURONIC ACID & COLLAGEN LEAVE IN CONDITIONER 200ML two Phase Conditioner with Hyaluronic Acid and Collagen for dull, lifeless, limp and damaged hair. Leaves hair thicker, smoother, voluminous, healthy, strong and shiny. Hyaluronic Acid restores hair's moisture level and improves hair elasticity. Plant-derived Collagen helps to reduce hair loss and strenghtens hair roots. It provides silky sofness and easy combing. It does not weigh down the hair.
Contains UV filter. Paraben free. Vegan formula.
HOW TO USE:
Shake well;
Spray on towel dried or dry hair and comb through;
Do not rinse;
It can be applied on dry hair during the day.
اربن كير هايلورنك اسد & كولاجين ليف ان كوندشنير 200مل بلسم مرحلتين مع حمض الهيالورونيك والكولاجين للشعر الباهت والحيوي والعرج والتالف. يترك الشعر أكثر كثافة ونعومة وكثافة وصحة وقوية ولامعة. يعيد Hyaluronic Acid مستوى رطوبة الشعر ويحسن مرونة الشعر. يساعد الكولاجين المشتق من النباتات على تقليل تساقط الشعر وتقوية جذور الشعر. يوفر نعومة حريرية وتمشيط سهل. لا تثقل الشعر.
يحتوي على فلتر للأشعة فوق البنفسجية. بارابين مجانا. صيغة نباتية.
طريقة الاستخدام:
هز جيدا.
يرش على الشعر المجفف أو الجاف بالمنشفة ويمشط.
لا تشطف.
يمكن وضعه على الشعر الجاف خلال النهار.