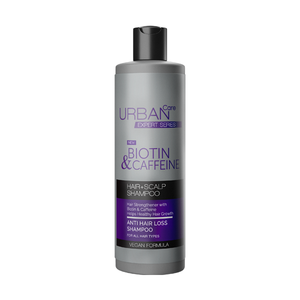 URBAN CARE EXPERT BIOTIN & CAFFEIN HAIR + SCALP SHAMPOO 350ML enriched with biotin and caffeine, intended for weak hair prone to shedding, dandruff, which requires a thorough cleaning of the hair roots. It helps to reduce hair loss, deeply cleans the hair roots, which contributes to healthier hair growth. Makes hair more resistant to the influence of external factors and damage caused by dyeing and thermal styling.
Vegan formula, cruelty-free.
HOW TO USE:
Gently massage the shampoo into wet hair, then rinse thoroughly;
For best results, use with products from the same collection.
اربن كير اكسبيرت بيوتين & كافيين هير + سكالب شامبو 350مل غني بالبيوتين والكافيين ، مخصص للشعر الضعيف المعرض للتساقط ، قشرة الرأس ، الأمر الذي يتطلب تنظيفًا شاملاً لجذور الشعر. يساعد على تقليل تساقط الشعر ، وينظف بعمق جذور الشعر ، مما يساهم في نمو الشعر بشكل أكثر صحة. يجعل الشعر أكثر مقاومة لتأثير العوامل الخارجية والضرر الناجم عن الصباغة والتصفيف الحراري.
تركيبة نباتية ، خالية من القسوة.
طريقة الاستخدام:
دلكي الشامبو برفق على الشعر المبلل ، ثم اشطفيه جيدًا.
للحصول على أفضل النتائج ، استخدميه مع منتجات من نفس المجموعة.