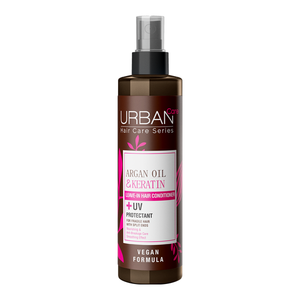 URBAN CARE ARGAN OIL & KERATIN LEAVE IN CONDITIONER SPRAY 200ML nourishing and anti-breakage liquid conditioner is developed for dull and damaged hair that is prone to breakage. Thanks to Argan oil, rich in antioxidants and fatty acids, this leave-in conditioner provides smoother, stronger, and shinier hair. Nourishes hair, helps improve hair breakage, makes hair look healthy from roots to ends. Thanks to its liquid form, it can be quickly and easily applied to towel dried hair, making disentangling easy. Provides silky softness and does not weigh hair down. Helps restructure, repair, and protect the hair thanks to the herbal keratin technology formula that contains 17 beneficial amino acids and restructuring plant proteins derived from Soy and Corn proteins. Paraben-free. No animal testing.
HOW TO USE:
Shake well;
Spray on towel dried or dry hair and comb through;
Do not rinse;
It can be applied on dry hair during the day
اربن كير ارغان اويل & كرتين ليف ان كوندشنر سبريه 200مل تم تطوير بلسم سائل مغذي ومضاد للتكسر للشعر الباهت والتالف المعرض للتكسر. بفضل زيت الأرجان ، الغني بمضادات الأكسدة والأحماض الدهنية ، يوفر هذا البلسم الذي يترك على الشعر شعرًا أكثر نعومة وقوة ولمعانًا. يغذي الشعر ، ويساعد على تحسين تكسر الشعر ، ويجعل الشعر يبدو صحياً من الجذور إلى الأطراف. بفضل شكله السائل ، يمكن وضعه بسرعة وسهولة على الشعر المجفف بالمنشفة ، مما يجعل فك تشابكه أمرًا سهلاً. يوفر نعومة حريرية ولا يثقل الشعر. يساعد في إعادة هيكلة وإصلاح وحماية الشعر بفضل تركيبة تقنية الكيراتين العشبية التي تحتوي على 17 من الأحماض الأمينية المفيدة وإعادة هيكلة البروتينات النباتية المشتقة من بروتينات الصويا والذرة. بارابين مجانا. لم يتم اختباره على الحيوانات.
طريقة الاستخدام:
هز جيدا.
يرش على الشعر المجفف أو الجاف بالمنشفة ويمشط.
لا تشطف.
يمكن وضعه على الشعر الجاف خلال النهار