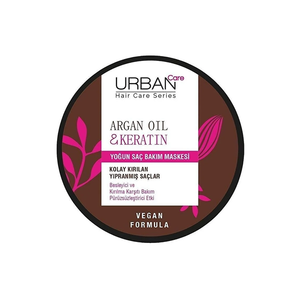 URBAN CARE ARGAN OIL & KERATIN INTENSIVE HAIR CARE MASK 230ML nourishing and Anti-Breakage Intensive Repairing Hair Care Mask, containing Argan Oil and Keratin, with its specially developed formula, helps to repair hair damage and reduce hair breakage. With Argan Oil and Herbal Keratin content, it supports you to get stronger, healthy and shiny hair. The formula developed for easily broken and damaged hair aims to reduce the breakage of the hair fiber and allows the hair to be easily shaped. By affecting the hair fiber, it smoothes and nourishes your hair. Paraben free. It has vegan content. No animal ingredients were used.
HOW TO USE:
After shampoo and cream; Apply to hair lengths and ends. Leave it on your hair for 2-3 minutes and rinse with warm water. For a more effective care, complete your care with other products of the Argan Oil & Keratin series.
اربن كير ارغان اويل & كرتين انتينسف هير كير ماسك 230مل ماسك العناية بالشعر المغذي والمضاد للتكسر ، الذي يحتوي على زيت الأرجان والكيراتين ، بتركيبته المطورة خصيصًا ، يساعد على إصلاح تلف الشعر وتقليل تكسر الشعر. مع محتوى زيت الأرغان والكيراتين العشبي ، فإنه يدعمك للحصول على شعر أقوى وصحي ولامع. تهدف الصيغة المطورة للشعر التالف والتكسر بسهولة إلى تقليل تكسر ألياف الشعر وتسمح بتكوين الشعر بسهولة. من خلال التأثير على ألياف الشعر ، فإنه ينعم ويغذي شعرك. بارابين مجانا. يحتوي على محتوى نباتي. لم يتم استخدام أي مكونات حيوانية.
طريقة الاستخدام:
بعد الشامبو والقشدة. يوضع على أطوال الشعر وأطرافه. اتركيه على شعرك لمدة 2-3 دقائق ثم اشطفيه بالماء الدافئ. للحصول على رعاية أكثر فعالية ، أكمل رعايتك بمنتجات أخرى من سلسلة زيت الأرغان والكيراتين.