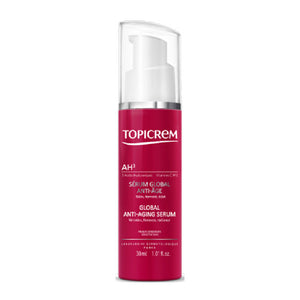 TOPICREM AH3 GLOBAL ANTI AGING SERUM 30ML a smoothing anti-ageing serum, designed to reduce the appearance of fine lines and wrinkles. Packed with a blend of hyaluronic acids, vitamins C and E, and dipeptides it works to smooth out fine lines, plump and reduce the signs of ageing on the skin. Suitable for ageing and sensitive skin types, it has a lightweight serum formula that's enriched with a delicate scent of blackcurrent, orange blossom and vanilla. Tested under dermatological and ophtalmological control.
HOW TO USE :
Apply to clean, dry skin.

Gently massage until fully absorbed.

Can also be applied to the neck and

 

décolletage.

Follow with a moisturiser.
توبيكريم سيروم لمكافحة الشيخوخة 30مل سيروم منعم مضاد للشيخوخة، مصمم لتقليل ظهور الخطوط الدقيقة والتجاعيد. معبأ بمزيج من أحماض الهيالورونيك وفيتامينات C وE وثنائي الببتيدات، فهو يعمل على تنعيم الخطوط الدقيقة وملء البشرة وتقليل علامات الشيخوخة. مناسب لأنواع البشرة المتقدمة في السن والحساسة، فهو يحتوي على تركيبة مصل خفيفة الوزن غنية برائحة رقيقة من التيار الأسود وزهر البرتقال والفانيليا. تم اختباره تحت مراقبة أطباء الجلد والعيون.
طريقة الاستخدام :
- ضعيه على بشرة نظيفة وجافة.
- دلكي بلطف حتى يتم امتصاصه بالكامل.
- يمكن تطبيقه أيضًا على الرقبة ومنطقة أعلى الصدر.
- اتبع مع مرطب.