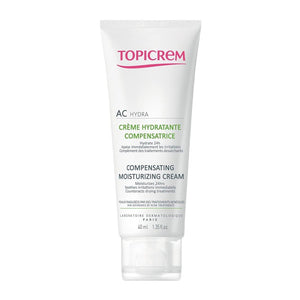 TOPICREM AC COMPENSATING MOISTURIZING CREAM a daily moisturising cream for sensitive, hormonal, acne and blemish prone skin. Designed to moisturise for 24 hours, immediately soothes irritation, and compliment drying treatments that can weaken the skin. AC Moisturizing Compensating Cream is specifically developed for oily skin, weakened by drying treatments, adolescents and adults. It immediately soothes, restores skin comfort and provides intense 24-hour hydration. The skin is clear, rehydrated and soothed. Dermatologically tested. Non-comedogenic. Non-acnegenic. Not photosensitizing. Delicate fragrance, ultra-comfortable fine texture.
HOW TO USE :
Apply morning and/or evening to face and neck.

Massage until fully absorbed.
توبيكريم مرطب للبشرة المعرضة لحب الشباب كريم ترطيب يومي للبشرة الحساسة والهرمونية والمعرضة لحب الشباب والعيوب. مصمم للترطيب لمدة 24 ساعة، ويهدئ التهيج على الفور، ويكمل علاجات التجفيف التي يمكن أن تضعف الجلد. تم تطوير كريم AC المرطب خصيصًا للبشرة الدهنية، التي أضعفتها علاجات التجفيف، لدى المراهقين والبالغين. يهدئ البشرة على الفور ويعيد لها الراحة ويوفر ترطيبًا مكثفًا على مدار 24 ساعة. البشرة صافية ومرطبة ومهدئة. مفحوصه من قبل اطباءالجلديه. غير كوميدوغينيك. غير مسبب لحب الشباب. لا يسبب حساسية للضوء. عطر رقيق، ملمس ناعم مريح للغاية.
طريقة الاستخدام :
- ضعيه صباحاً و/أو مساءً على الوجه والرقبة.
- قم بالتدليك حتى يتم امتصاصه بالكامل.