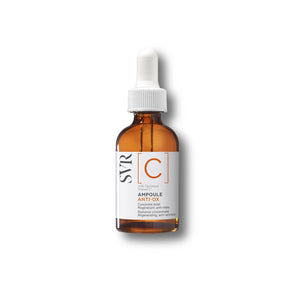 SVR AMPOULE 20% OPTIMISED VITAMIN C ANTI-OX SERUM 30ML is an intensive vitamin C booster that minimizes signs of fatigue, brightens the skin and smooths wrinkles. The ultra-light formula is immediately absorbed to reveal a radiant complexion. The key ingredient to visibly improve the overall luminosity of the skin is Vitamin C. The formula has a high concentration of 20% of Vitamin C to significantly improve the skin condition. As a potent antioxidant, it encourages the skin's natural collagen production to keep the skin youthful-looking. After only seven days, find unmistakable results. Additionally, it promotes a brightening result, helps to fade the skin's pigmentation and protects the skin from pollution and other external aggressors. The formula is also enriched with Hyaluronic Acid. This potent ingredient has an incredible water holding capacity to guarantee intense hydration. Equally important, it enables water-soluble actives to penetrate deeper into the skin.
This efficient booster visibly erases signs of fatigue, improves the skin's radiance, minimizes wrinkles and evens the complexion. Add this concentrate to your routine and find the skin looking more awake with renewed luminosity.
HOW TO USE:
Start your morning and evening routine by cleansing and toning the skin. Then, apply SVR Ampoule [C] Anti-Ox Radiance Concentrate before your favorite moisturizer, avoiding the eye contour.
اس في ار 20% فيتامين سي انتي اوكس سيرم 30 مل هو معزز مكثف لفيتامين C يقلل من علامات التعب ويفتح البشرة وينعم التجاعيد. يتم امتصاص التركيبة الخفيفة للغاية على الفور لتكشف عن بشرة متألقة. المكون الرئيسي لتحسين لمعان البشرة بشكل واضح هو فيتامين سي.تحتوي الصيغة على تركيز عالٍ بنسبة 20٪ من فيتامين سي لتحسين حالة الجلد بشكل ملحوظ. كمضاد قوي للأكسدة ، فهو يشجع إنتاج الكولاجين الطبيعي للبشرة للحفاظ على نضارة البشرة. بعد سبعة أيام فقط ، ابحث عن نتائج لا لبس فيها. بالإضافة إلى ذلك ، فإنه يعزز نتيجة إشراق ، ويساعد على تلاشي تصبغ الجلد ويحمي البشرة من التلوث والعوامل الخارجية الأخرى. التركيبة غنية أيضًا بحمض الهيالورونيك. يحتوي هذا المكون الفعال على قدرة لا تصدق على الاحتفاظ بالماء لضمان ترطيب مكثف. بنفس القدر من الأهمية ، فهو يمكّن العناصر النشطة القابلة للذوبان في الماء من اختراق عمق الجلد.
هذا المعزز الفعال يزيل علامات التعب بشكل واضح ، ويحسن إشراق البشرة ، ويقلل من التجاعيد ويوحد لون البشرة. أضف هذا التركيز إلى روتينك وابحث عن البشرة التي تبدو أكثر استيقاظًا مع لمعان متجدد.
طريقة الاستخدام:
ابدأ روتين الصباح والمساء الخاص بك عن طريق تطهير وتوحيد لون البشرة. ثم ضع اس في ار 20% فتامين سي انتي اوكس سيرم 30 مل قبل المرطب المفضل لديك ، مع تجنب محيط العين.