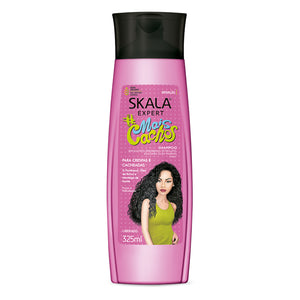 SKALA MAIS CACHOS SHAMPOO 325ML approved shampoo for gentle cleaning with ingredients which moisturize, detangle and provide glow, strength and extra repair, making hair with perfect volume. Ordinary sulfate free products tend to make less foam, but skala's ones just make it perfectly.
*100% Vegan*
**Free from Sulfate, Paraben, Silicone, Drying alcohol, Mineral oil, Waxes (CGM approved)**
HOW TO USE:
Apply it to your scalp and massage gently for 7-10 mins then rinse well.  (Approved shampoo, No sulfate)
سكالا مايس كوشيس شامبو 325مل شامبو معتمد للتنظيف اللطيف بمكونات ترطب وتفك تشابك وتوفر توهجًا وقوة وإصلاحًا إضافيًا ، مما يجعل الشعر بحجم مثالي. تميل المنتجات العادية الخالية من الكبريتات إلى إنتاج رغوة أقل ، ولكن منتجات سكالا تجعلها مثالية.
* نباتي 100٪ * *
* خالٍ من الكبريتات والبارابين والسيليكون والكحول الجاف والزيوت المعدنية والشموع (معتمدة من CGM) **
طريقة الاستخدام:
ضعيه على فروة رأسك ودلكي بلطف لمدة 7-10 دقائق ثم اشطفيه جيداً. (شامبو معتمد ، بدون كبريتات)