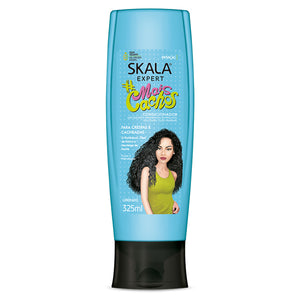 SKALA MAIS CACHOS CONDITIONER 325ML with With D-panthenol, Shea butter and castor oil extract
#perfectcurls products, were especially developed to meet costumer's need. They can be curly, super curly, kinky or transition hair. With ingredients which moisturize, detangle and provide glow, strength and extra repair, making hair with perfect volume.
* 100% Vegan *
* Free from Sulfate, Paraben, Silicone, Drying alcohol, Mineral oil, Waxes (CGM APPROVED)**
HOW TO USE:
Apply to shampooed hair, keep it for 3-5 minutes then rinse well .Avoid using directly on your scalp
سكالا ميس كاشوس بلسم 325مل مع د-بانثينول وزبدة الشيا وخلاصة زيت الخروع
تم تطوير منتجات #perfectcurls خصيصًا لتلبية احتياجات العملاء. يمكن أن يكون مجعدًا أو مجعدًا للغاية أو غريبًا أو شعرًا انتقاليًا. بمكونات ترطب وتفك تشابك الشعر وتوفر توهجًا وقوة وترميمًا إضافيًا ، مما يجعل الشعر بحجم مثالي.
* نباتي 100٪ *
* خالٍ من الكبريتات والبارابين والسيليكون والكحول الجاف والزيوت المعدنية والشموع (معتمد من CGM) **
طريقة الاستخدام:
ضعيه على الشعر المغسول بالشامبو واتركيه لمدة 3-5 دقائق ثم اشطفيه جيداً وتجنبي استخدامه مباشرة على فروة رأسك