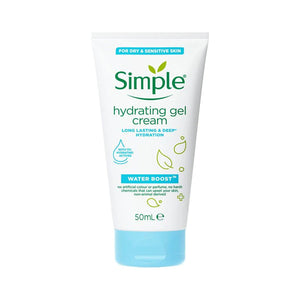 SIMPLE WATER BOOST HYDRATING GEL CREAM 50ML works throughout the day, to deliver instant, continuous hydration, leaving skin smooth and dewy fresh.
It delivers instant moisture to thirsty skin, reversing dehydration symptoms such as dry or dull-looking skin and leaving it looking and feeling healthy, smooth and revitalised.
Made with skin-loving ingredients, minerals and a plant extract and no harsh chemicals, it's perfect for sensitive, dry or dehydrated skin.
Our Water Boost Hydrating Gel Cream contains no harsh chemicals, artificial colour or perfume that can upset your skin, making it perfect for even sensitive skin.
HOW TO USE:
Cleanse your skin with one of our Simple Water Boost Cleansers
Smooth the hydrating gel cream gently into your face and neck using upward and outward movements to instantly rehydrate.
For an extra hydration boost, apply our Water Boost Hydrating Booster all over your face to prime your skin before applying your moisturiser.
سمبل واتر بوست مرطب جيل كريم 50مل يعمل طوال اليوم ، ليمنحك ترطيبًا فوريًا ومستمرًا ، ويترك البشرة ناعمة ونضرة. يوفر ترطيبًا فوريًا للبشرة المتعطشة ، ويعكس أعراض الجفاف مثل البشرة الجافة أو الباهتة ويتركها تبدو صحية وناعمة ومتجددة. مصنوع من مكونات لطيفة على البشرة ، ومعادن وخلاصة نباتية ولا يحتوي على مواد كيميائية ضارة ، فهو مثالي للبشرة الحساسة والجافة أو المصابة بالجفاف. لا يحتوي كريم الجل المرطب Water Boost على مواد كيميائية قاسية أو لون صناعي أو عطر يمكن أن يزعج بشرتك ، مما يجعله مثاليًا حتى للبشرة الحساسة.
طريقة الاستعمال:
الخطوة 1 نظفي بشرتك باستخدام أحد منظفاتنا البسيطة Water Boost
الخطوة 2 ضعي كريم الجل المرطب على وجهك ورقبتك برفق باستخدام حركات للأعلى وللخارج لإعادة الترطيب على الفور.
الخطوه 3 للحصول على ترطيب إضافي ، ضعي Water Boost Hydrating Booster على وجهك بالكامل لتهيئة بشرتك قبل وضع المرطب.