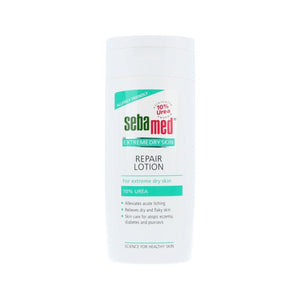 SEBAMED EXTREME DRY SKIN REPAIR LOTION 10% UREA 200ML repairs your skin's depleted lipids, relieving dryness with profound hydration. It's formulated with a urea concentration of 10% to instantly alleviate dry skin symptoms like itchiness. The Repair Lotion also includes lecithin, sweet almond oil and triglycerides essential natural lipids that help restore your moisture balance. Relieves acute itching. Formulated at pH 5.5, the pH level of healthy skin. Activates desquamation to smooth rough skin. The keratolytic effect caused by urea promotes the healthy peeling away of dry and dead skin.
HOW TO USE:
Gently massage a small amount of lotion into effected area after bathing to seal in moisture, or anytime to help ease dryness.
لوشن إصلاح البشرة الجافة للغاية من سيباميد 10٪ يوريا 200 مل يعمل على إصلاح الدهون المستنفدة في بشرتك ، مما يخفف من الجفاف بالترطيب العميق. تمت صياغته بتركيز 10٪ من اليوريا للتخفيف الفوري من أعراض جفاف الجلد مثل الحكة. يحتوي لوشن الإصلاح أيضًا على الليسيثين وزيت اللوز الحلو والدهون الثلاثية الطبيعية الأساسية التي تساعد على استعادة توازن الرطوبة. يخفف الحكة الحادة. تمت صياغته عند درجة الحموضة 5.5 ، وهو مستوى الأس الهيدروجيني للبشرة الصحية. ينشط التقشر لتنعيم البشرة الخشنة. يعمل التأثير الكيراتيني الناتج عن اليوريا على تعزيز التقشير الصحي للبشرة الجافة والميتة.
طريقة الاستخدام:
قومي بتدليك كمية صغيرة من المستحضر برفق في المنطقة المصابة بعد الاستحمام لحبس الرطوبة ، أو في أي وقت للمساعدة في تخفيف الجفاف.
Very good
Very good but the quantity is not enough