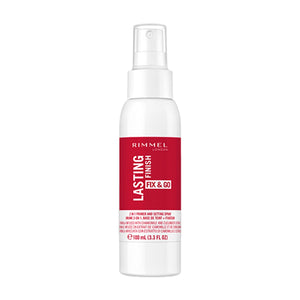 RIMMEL LASTING FINISH FIX & GO SETTING SPRAY 100ML is a multi-tasking primer and fixing spray that preps your skin and sets your face makeup. It makes skin feel smooth and moisturised. Use in a multitude of ways: apply after moisturiser and SPF to prime your skin and give your makeup staying power and your skin a shine-free look all day. Or spritz it on after makeup to lock your look in place. Reapply to refresh your makeup and help skin feel moisturised.  This hard-working makeup marvel dries quickly without feeling tight or sticky and is comfortable to wear all day.
HOW TO USE:
On clean, moisturised skin, spritz Lasting Finish Fix & Go Setting Spray.
سبراي التثبيت Lasting Finish Fix & Go من ريميل 100مل هو عبارة عن برايمر متعدد المهام وبخاخ تثبيت يحضر بشرتك ويضع مكياج وجهك. يجعل البشرة ناعمة ورطبة. استخدميه بعدة طرق: ضعيه بعد المرطب وعامل الحماية من الشمس (SPF) لتهيئة بشرتك وإعطاء مكياجك قوة ثبات وبشرتك مظهرًا خالٍ من اللمعان طوال اليوم. أو رشيه بعد المكياج لتثبيت مظهرك في مكانه. كرري وضعه لتحديث مكياجك ومساعدة بشرتك على الشعور بالترطيب. يجف هذا المكياج الذي يعمل بجد بسرعة دون الشعور بالضيق أو اللزوجة وهو مريح للارتداء طوال اليوم.
طريقة الاستخدام:
على بشرة نظيفة ومرطبة ، رش بخاخ التثبيت Lasting Finish Fix & Go.