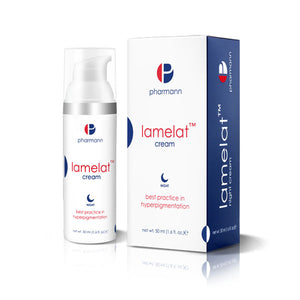 PHARMANN LAMELAT WHITENING CREAM 50ML is intended for evening care of the face, neck and neckline. Thanks to the content of highly potent active ingredients and the technology of encapsulation of the whitening peptide contained in the cream, effectively reduces pigmentation lesions and significantly lightens and evens out the skin tone after only 4 weeks, used regularly reduces the visibility of pigmentation spots and prevents the occurrence of new discolorations.
HOW TO USE
Apply a layer of the cream into cleansed skin  of the face, neck and neckline and leave to absorb. Use in the evening
كريم تبييض فارمان لاميلات 50 مل مخصص للعناية المسائية بالوجه والرقبة وخط العنق. بفضل محتوى المكونات النشطة القوية للغاية وتقنية تغليف الببتيد المبيض الموجود في الكريم، يقلل بشكل فعال من آفات التصبغ ويفتح ويوحد لون البشرة بشكل ملحوظ بعد 4 أسابيع فقط، عند استخدامه بانتظام يقلل من ظهور بقع التصبغ ويوحد لونها. يمنع حدوث تغيرات جديدة في اللون.
طريقة الاستخدام:
ضعي طبقة من الكريم على بشرة الوجه والرقبة وخط العنق النظيفة واتركيها حتى تمتصها. يستخدم في المساء