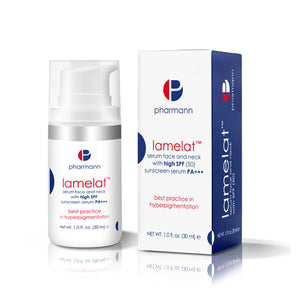 PHARMANN LAMELAT SERUM FACE & NECK WITH HIGH SPF 30ML is intended for daily care of the face, neck and neckline. A unique combination of active ingredients, such as: biomimetic whitening peptide, Exo-T and Licorice root extract, significantly affects the reduction of the level of melanin, thereby reducing hyperpigmentation lesions, age spots and other discolorations. As a result, the skin tone is balanced and the complexion has a brighter, youthful appearance. Thanks to the use of an innovative liposomal system penetrating the skin, the biomimetic whitening peptide, contained in the product, penetrates into the deeper layers of the skin to provide a sustained release effect. Moisturizes, regenerates the skin and rebuilds its lipid barrier. contains a high sun protection value (SPF 50) so that the skin is protected against harmful UV radiation during whole day.
HOW TO USE
Apply a thin layer of serum into the face, neck and neckline. Leave to absorb. Use in the morning.
سيروم فارمان لاميلات للوجه والرقبة مع عامل حماية من الشمس عالي 30 مل مخصص للعناية اليومية بالوجه والرقبة وخط العنق. مزيج فريد من المكونات النشطة، مثل: ببتيد التبييض الحيوي، ومستخلص جذور عرق السوس Exo-T، يؤثر بشكل كبير على تقليل مستوى الميلانين، وبالتالي تقليل آفات فرط التصبغ، والبقع العمرية وتغيرات اللون الأخرى. ونتيجة لذلك، يصبح لون البشرة متوازنًا وتتمتع البشرة بمظهر أكثر إشراقًا وشبابًا. بفضل استخدام نظام الجسيمات الشحمية المبتكر الذي يخترق الجلد، يتغلغل الببتيد المبيض الحيوي الموجود في المنتج في الطبقات العميقة من الجلد لتوفير تأثير إطلاق مستدام. يرطب البشرة ويجددها ويعيد بناء حاجز الدهون فيها. يحتوي على قيمة حماية عالية من أشعة الشمس (SPF 50) بحيث يتم حماية البشرة من الأشعة فوق البنفسجية الضارة طوال اليوم.
طريقة الاستخدام:
ضعي طبقة رقيقة من المصل على الوجه والرقبة وخط العنق. يترك ليمتص. استخدمه في الصباح.