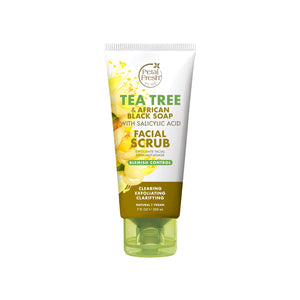 PETAL FRESH TEA TREE WITH SALICYLIC ACID FACIAL SCRUB 200ML pure Blemish Control Facial Scrub is full of natural and key ingredients to provide gentle yet superior exfoliation while targeting blemishes. The powerful combination of Tea Tree, Salicylic Acid and African Black Soap detoxifes and exfoliates dead skin cells leaving your skin softer, smoother and more visibly clear. 
Designed to be used 1 to 3 times a week on clean skin.
بيتال فريش تي تري مع سالسيلك اسد فيشيال سكرب 200مل مقشر الوجه للتحكم في الشوائب مليء بالمكونات الطبيعية والرئيسية لتوفير تقشير لطيف ولكن فائق مع استهداف الشوائب. المزيج القوي من شجرة الشاي وحمض الساليسيليك والصابون الأسود الأفريقي يزيل السموم ويقشر خلايا الجلد الميتة مما يجعل بشرتك أكثر نعومة ونقاء وأكثر وضوحًا.
مصمم ليتم استخدامه من 1 إلى 3 مرات في الأسبوع على بشرة نظيفة.