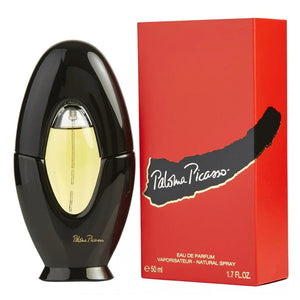 PALOMA PICASSO PALOMA PICASSO WOMAN EAU DE PARFUM 50ML is an elegant, woody fragrance for women. The wide range of floral and woody notes create the perfect harmony.  
Top notes: Bergamot, Lemon, Hyacinth, Ylang-ylang, Clove, Angelica root 
Heart notes: Iris (Orris), Jasmine, Lily of the Valley (Muguet), Mimosa, Rose (May Rose or Rose de Mai), Coriander 
Base notes: Cedarwood, Patchouli, Sandalwood, Vetiver, Oakmoss, Amber, Castoreum, Civet, Musk, Tobacco 
بالوما بيكاسو او دو بارفيوم للنساء 50مل عطر خشبي أنيق للنساء ، تخلق المجموعة الواسعة من الروائح الزهرية والخشبية تناغمًا مثاليًا.
مقدمة العطر: البرغموت ، والليمون ، والصفير ، والإيلنغ ، والقرنفل ، وجذر حشيشة الملاك
قلب العطر: السوسن (السوسن) ، الياسمين ، زنبق الوادي (موجويت) ، الميموزا ، الورد (زهرة مايو أو روز دي ماي) ، الكزبرة
قاعدة العطر: خشب الأرز ، الباتشولي ، خشب الصندل ، نجيل الهند ، طحلب البلوط ، العنبر ، كاستوريوم ، الزباد ، المسك ، التبغ