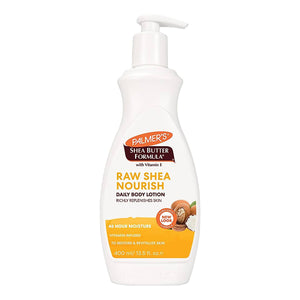 PALMERS SHEA BUTTER RAW SHEA NOURISH DAILY BODY LOTION 400ML soothe and Nourish skin with Palmer's Shea Butter Formula daily body lotion, crafted with vitamin-enriched Shea Butter to richly replenish dry, sensitive skin. Proudly made in U.S.A., Palmer's® has been a trusted brand for over 180 years, providing high-quality natural products that are passed down from generation to generation.
Benefits:
Soothes & Nourishes dry, sensitive skin with raw, natural Shea Butter and Vitamin E for healthier-looking skin
48 hour moisture
Vegan Friendly - no animal ingredients or testing
Free of Parabens, Phthalates, Dyes
Formulated with Shea Butter ethically and sustainably sourced in West Africa
Dermatologist Approved
بالميرز شيا بيتر رو شيا نورش ديلي بودي لوشن 400مل تهدئة وتغذية البشرة باستخدام لوشن زبدة الشيا اليومي للجسم من بالمرز ، المصنوع من زبدة الشيا الغنية بالفيتامينات لتجديد البشرة الجافة والحساسة بشكل غني. تم صنع Palmer's® بفخر في الولايات المتحدة الأمريكية ، وهي علامة تجارية موثوق بها لأكثر من 180 عامًا ، حيث توفر منتجات طبيعية عالية الجودة تنتقل من جيل إلى جيل.
فوائد:
-يلطف ويغذي البشرة الجافة والحساسة بزبدة الشيا الخام والطبيعية وفيتامين E للحصول على بشرة أكثر صحة
-ترطيب لمدة 48 ساعة
-صديق للنباتيين - لا يحتوي على مكونات حيوانية أو اختبار خالٍ من البارابين والفثالات والأصباغ
-يتكون من زبدة الشيا من مصادر أخلاقية ومستدامة في غرب إفريقيا
-وافق طبيب الجلدية