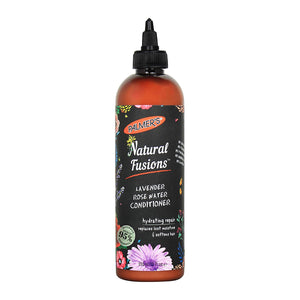 PALMER'S NATURAL FUSIONS LAVENDER ROSEWATER CONDITIONER 350ML infuses hair with natural moisturizers to replenish and repair hair, smooth frizz, soften the texture and leave hair more manageable.

No Sulfates • No Parabens • No Phthalates • No Mineral Oil • No Gluten • No Dyes
How to use:
After washing with Natural Fusions™ Micellar Rosewater Cleanser, dispense product onto ends and work upward throughout the rest of hair. Allow the product to penetrate hair for 3-5 minutes. Rinse thoroughly.
 بالمرز ناتشورال فيوجنز  بلسم للشعر باللافندر وماء الورد 350مل، يغذي الشعر بالمرطبات الطبيعية لتجديد الشعر وإصلاحه ، وتنعيم التجعد ، وتنعيم الملمس ، وترك الشعر أكثر قابلية للتحكم
خالٍ من الكبريتات • خالٍ من البارابين • خالي من الفثالات • خالي من الزيوت المعدنية • خالي من الغلوتين • خالي من الأصباغ
:كيفية الاستخدام
بعد الغسل بشامبو ماء الورد ميسيلار ناتشورال فيوجنز ، وزعي المنتج على الأطراف واعمليه لأعلى في بقية الشعر. اتركي المنتج يتغلغل في الشعر لمدة 3-5 دقائق. شطف جيدا
PALMER'S NATURAL FUSIONS LAVENDER ROSEWATER CONDITIONER 350ML