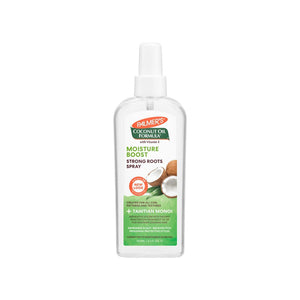 PALMER'S COCONUT OIL STRONG ROOTS SPRAY restores dry or damaged hair with naturally-derived ingredients that deeply lock in moisture from root to tip, visibly improving your hair's condition after each use. For dry, damaged or colour treated hair. Refreshes hair and scalp, relieves itch with invigorating peppermint. Suitable for Vegans.
HOW TO USE:
Spray directly onto scalp and massage gently, focusing on areas that need it most. Allow to dry for one minute before styling.
يعمل بخاخ زيت جوز الهند لجذور قوية من بالمرز على استعادة الشعر الجاف أو التالف بمكونات مشتقة من الطبيعة تحبس الرطوبة بعمق من الجذور إلى الأطراف ، مما يحسن حالة شعرك بشكل واضح بعد كل استخدام. للشعر الجاف أو التالف أو المعالج بالألوان. ينعش الشعر وفروة الرأس ويخفف الحكة بالنعناع المنعش. مناسب للنباتيين.
طريقة الاستخدام:

رشيه مباشرة على فروة الرأس وقومي بالتدليك بلطف ، مع التركيز على المناطق التي تحتاجينها بشدة. اتركيه ليجف لمدة دقيقة قبل التصفيف.