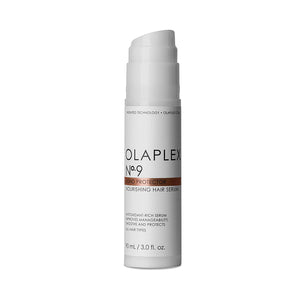 OLAPLEX Nº.9 BOND PROTECTOR NOURISHING HAIR SERUM 90ML , Protects your hair from daily damage with this weightless, leave-in, silicone-free hair serum to shield hair from pollution for 48 hours and provide heat protection up to 450°F (232°C).

Free of DEA, Aldehydes and Formaldehyde. Silicone-Free.

For:
All hair types and textures.
When:
Use on days you wash your hair and any days in between for added protection.
How to use:
As the first step in your styling routine, apply a small amount to damp hair working upward from ends to roots. Use more as needed for longer, thicker hair.
اولابلكس رقم 9 سيروم يحمي الشعر 90مل ، يحمي شعرك من التلف اليومي باستخدام مصل الشعر خفيف الوزن والخالي من السيليكون والذي يحمي الشعر من التلوث لمدة 48 ساعة ويوفر حماية من الحرارة تصل إلى 450 درجة فهرنهايت (232 درجة مئوية)
خالية من دي اي آه والألدهيدات والفورمالديهايد. خالٍ من السيليكون
:مناسب لـ
جميع أنواع وقوام الشعر
:متى يستخدم
استخدميه في الأيام التي تغسلين فيها شعرك وأي أيام بينهما لمزيد من الحماية
:كيفية الاستعمال
كخطوة أولى في روتين التصفيف ، ضعي كمية صغيرة على الشعر المبلل من الأعلى إلى الجذور. استخدمي المزيد حسب الحاجة لشعر أطول وأكثر كثافة