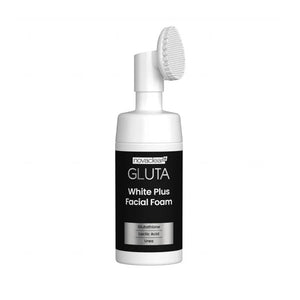 NOVACLEAR GLUTA WHITE PLUS FACIAL FOAM 100ML facial Cleanser with Glutathione and Lemon Extract deeply cleanses your skin leaving it soft and smooth. Special blend of active ingredients gently exfoliates and brightens your skin.

HOW TO USE:
Massage onto wet face avoiding eye area, then rinse off with water.
نوفاكلير جلوتا وايت بلس فيشيال فوم 100مل منظف ​​الوجه بالجلوتاثيون وخلاصة الليمون ينظف بشرتك بعمق ويتركها ناعمة وسلسة. مزيج خاص من المكونات النشطة يقشر بشرتك بلطف ويفتحها.
طريقة الاستخدام:
دلكيه على وجه مبلل مع تجنب منطقة العين ، ثم اشطفيه بالماء.