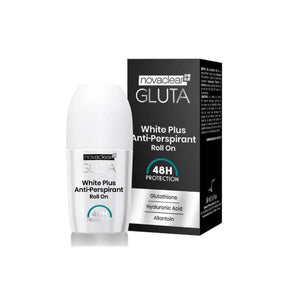 NOVACLEAR GLUTA WHITE PLUS ANTI-PERSPIRANT ROLL ON 50ML for daily care of every skin type. Gluthatione helps to even the skin tone and get rid of dark spots. Hyaluronic Acid, Allantoin and Aloe Vera calm, soothe and moisturize the skin. The formula provides 48h sweat and odour control.
HOW TO USE:
Shake well before use. Apply evenly on clean armpit skin, using circular motions. Do not apply to irritated or damaged skin. Let it dry before dressing.
نوفاكلير جلوتا وايت بلس مضاد للتعرق رول اون لتبييض الابطين للعناية اليومية لكل أنواع البشرة. يساعد الجلوتاثيون على توحيد لون البشرة والتخلص من البقع الداكنة. يعمل حمض الهيالورونيك والألانتوين والصبار على تهدئة وترطيب البشرة. توفر الصيغة التحكم في العرق والرائحة لمدة 48 ساعة.
طريقة الاستخدام:
يُرج جيداً قبل الاستخدام. ضعيه بالتساوي على بشرة إبط نظيفة ، بحركات دائرية. لا يوضع على البشرة المتهيجة أو التالفة. اتركيه يجف قبل ارتداء الملابس.