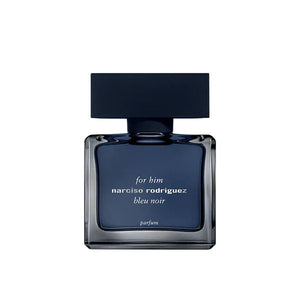 NARCISO RODRIGUEZ NARCISO FOR HIM BLEU NOIR EAU DE PARFUM 50ML is a new creation for a man who defines his uniqueness. Mysterious and daring, this new bleu noir fragrance revisits masculine elegance by exploring a new complementary universe within the collection. In this new fragrance, the suede is enhanced by the sensuality of the iris and made sweeter by the addition of the tonka bean.
The heart of musk, the brand's olfactory signature, evokes the sensuality and opulence of bleu noir.
نارسيسو رودريغز فور هيم بلو نوار او دو بارفيوم 50مل هو عطر جديد للرجل الذي يحدد تفرده. يعيد هذا العطر الغامض والجريء النظر إلى الأناقة الذكورية من خلال استكشاف عالم مكمل جديد داخل المجموعة. في هذا العطر الجديد ، يتم تعزيز الجلد المدبوغ بحساسية السوسن وجعله أكثر حلاوة بإضافة حبوب التونكا. قلب المسك ، توقيع العلامة التجارية العطري ، يثير جاذبية وفخامة بلو نوار.