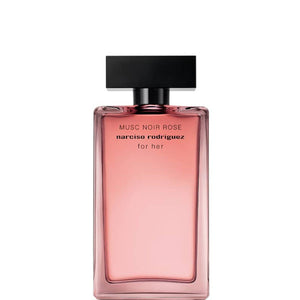 English
NARCISO RODRIGUEZ FOR HER MUSC NOIR ROSE EAU DE PARFUM born from femininity and elegance, the for her line is Narciso Rodriguez's gift to women and a tribute to their inner beauty. The heart of musk, signature of each creation of the for her line, transports the wearer on a sensory journey.
In MUSC NOIR ROSE eau de parfum, the unmistakable musk heart of for her is wrapped in a delicate sensuality.
The fragrance pays homage to the true nature of every woman, an intimate moment in which it reveals her authenticity.
Top notes characterized by the freshness of bergamot combine with the intense tuberose to create a radiant fragrance.
This is followed by the captivating heart of musk which enhances the floral bouquet of the fragrance, softening the base notes with warm oriental accents of vanilla.
نارسيسو رودريغز فور هير مسك نوار روز او دو بارفيوم للنساء ولد هذا العطر من الأنوثة والأناقة ، فهو هدية للمرأة وإشادة بجمالها الداخلي. ينقل مرتديها في رحلة حسية. يحتفي العطر بالطبيعة الحقيقية لكل امرأة ، وهي لحظة حميمية تكشف فيها عن أصالتها. المكونات العليا التي تتميز بانتعاش البرغموت تتحد مع مسك الروم لتكوين عطر مشع. يتبع هذا قلب آسر من المسك الذي يعزز باقة الأزهار للعطر ، ويخفف النفحات الأساسية مع لمسات شرقية دافئة من الفانيليا.