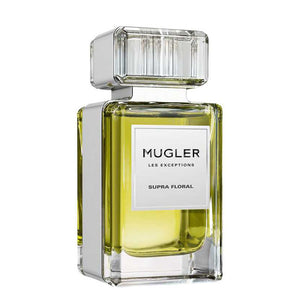 MUGLER LES EXCEPTIONS SUPRA FLORAL 80ML the remarkable hyacinth with its velvety, crisp green petals is rare in the perfume world. Jostled by an unexpected addition of amber and incense, this scent evolves with unsuspected mystery and depth. SUPRA FLORAL reveals itself in a paroxysm of pure sensuality.
Tantalizing. Luminous. Vibrant.
موغلر ليس اكسبيشنس سوبرا فلورال للجنسين 80مل الياقوتية الرائعة بتلاتها الخضراء الهشة المخملية نادرة في عالم العطور. تتطور هذه الرائحة مع إضافة غير متوقعة من العنبر والبخور ، مع غموض وعمق غير متوقعين. سوبرا فلورال تكشف عن نفسها في نوبة من الحسية الخالصة. محيرة. مضيئة. نابض بالحياة.