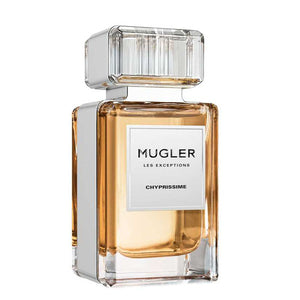 MUGLER LES EXCEPTIONS CHYPRISSIME 80ML the legendary chypre, a harmony of bergamont orange, oak moss, and patchouli, is amplified by an unorthodox burst of dazzling pear. This surprising note transforms the classic chypre with a new brightness, creating a succulently sensual expression never experienced before.
Elegant. Radiant. Sophisticated.
موغلر ليس اكسبيشنس تشيبرسم للجنسين 80مل يتم تضخيم التشيبر الأسطوري ، وهو تناغم بين برتقال البرغمونت وطحلب البلوط والبتشول ، من خلال اندفاع غير تقليدي من الكمثرى المبهر. هذه النوتة المفاجئة تحول التشيبر الكلاسيكي مع سطوع جديد ، مما يخلق تعبيرًا حسيًا عصاريًا لم نشهده من قبل. رائع مشع ومتطور.