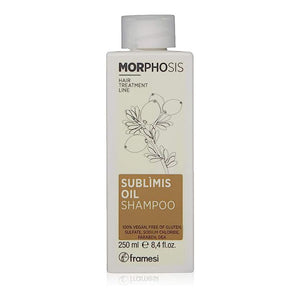 MORPHOSIS SUBLIMIS OIL SHAMPOO 250ML is suitable for dry, damaged and dirty hair that is prone to frizz and it is difficult to style. It cleanses gently scalp, hydrates and nourishes. Sublimis Oil Shampoo helps restore the moisture balance of dry areas, makes the hair silky and gives it an intense shine.
HOW TO USE:
Apply to wet scalp and hair, massage gently.
مورفيسيس سبيليم اويل شامبو 250مل مناسب للشعر الجاف والتالف والمتسخ والمعرض للتجعد ويصعب تصفيفه. ينظف فروة الرأس بلطف ، يرطب ويغذي. يساعد شامبو زيت سابليميس على استعادة توازن الرطوبة في المناطق الجافة ، ويجعل الشعر حريريًا ويمنحه لمعانًا كثيفًا.
طريقة الاستخدام:
يوضع على فروة الرأس والشعر المبلل ، ويدلك بلطف.