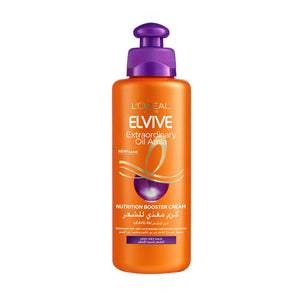 Loreal Elvive Extraordinary Oil Leave In 200ml is a multi-use nourishing cream that deeply nourishes dry, curly hair leaving it perfectly defined from the lengths to the ends of the curls. Thus, its light creamy formula is enriched with amla oil and coconut oil that deeply penetrates the hair fiber for an extreme hydration, leaving hair irresistibly soft. At the same time, this combing cream provides three benefits in one product: it provides elastic curls, nourishes without weighing and gives hair a perfect definition.
HOW TO USE:
Apply it to your wet hair after conditioning. Detangle your hair using a brush or wide-tooth comb and then dry and style to your desired look. You can also apply it on dry hair for an extra boost moisture and manageability.
لوريال الفيف اكستراوردينري اويل ليف ان 200مل كريم مغذي متعدد الاستخدامات يغذي الشعر الجاف والمجعد بعمق ويتركه محددًا تمامًا من أطوال الضفائر إلى نهاياتها. وبالتالي ، فإن تركيبته الكريمية الخفيفة غنية بزيت أملا وزيت جوز الهند الذي يتغلغل بعمق في ألياف الشعر للحصول على ترطيب شديد ، ويترك الشعر ناعمًا بشكل لا يقاوم. في الوقت نفسه ، يوفر كريم التمشيط هذا ثلاث فوائد في منتج واحد: فهو يوفر تجعيدًا مرنًا ويغذي الشعر دون وزن ويعطي الشعر تعريفًا مثاليًا.
طريقة الاستخدام:
ضعيه على شعرك المبلل بعد التكييف. قم بفك تشابك شعرك باستخدام فرشاة أو مشط واسع الأسنان ثم جففه وقم بتسريحه بالشكل الذي تريده. يمكنك أيضًا تطبيقه على الشعر الجاف لزيادة ترطيبه وسهولة تصفيفه.