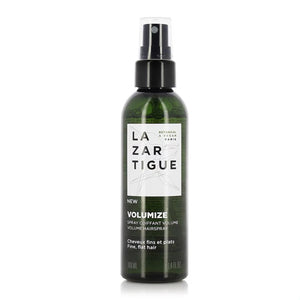 LAZARTIGUE VOLUMIZE SPRAY 100ML this exceptionally light styling spray provides volume for 24 hours. With 97% natural ingredients, its formula enriched with rice protein extracts and amaranth, offers a densifying effect to fine hair without weighing it down. The hair is sublimated: denser, shinier, it shines with beauty.
Densifying action – Natural volume from the roots – Easy to style
HOW TO USE:
After shampooing and on wet hair: -Spray evenly on the roots and tips, then comb the hair gently to distribute the ingredients, dry it to activate the intense effect of the product – no need to rinse
لازارتيج بخاخ مكثف 100مل يوفر رذاذ التصفيف الخفيف للغاية هذا الحجم لمدة 24 ساعة. مع 97٪ من المكونات الطبيعية ، تركيبته المخصبة بمستخلصات بروتين الأرز والقطيفة ، توفر تأثيرًا مكثفًا للشعر الناعم دون إثقاله. يتم تسريع الشعر: أكثر كثافة ، ولمعانًا ، ويضيء بجمال. عمل مكثف - حجم طبيعي من الجذور - سهل التصفيف
طريقة الاستخدام:
بعد غسل الشعر بالشامبو وعلى الشعر المبلل: - رشي بالتساوي على الجذور والأطراف ، ثم مشطي الشعر برفق لتوزيع المكونات ، وجففيه لتفعيل التأثير المكثف للمنتج - لا داعي للشطف.