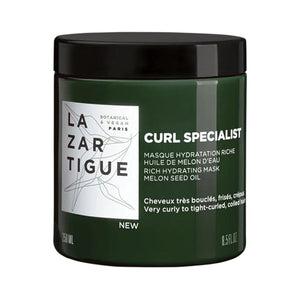 LAZARTIGUE  CURL SPECIALIST RICH HYDRATION MASK 250ML enriched with watermelon oil from the Kalahari Desert, this moisturizing mask for curly hair deeply nourishes and hydrates the fiber while allowing instant detangling. Hair regains softness and shine, curls are redefined and frizz is controlled.
HOW TO USE:
Apply the rich moisturizing post-conditioner mask to towel-dried hair, applying generously all over hair to ends. Use a wide-toothed comb or brush to detangle the hair, then leave it for 5 to 10 minutes, depending on the porosity of the hair, and rinse it well.
قناع الترطيب لازارتيج كيرل المتخصص الغني 250 مل المخصب بزيت البطيخ من صحراء كالاهاري ، هذا القناع المرطب للشعر المجعد يغذي ويرطب الألياف بعمق بينما يسمح بفك التشابك الفوري. يستعيد الشعر نعومته ولمعانه ، ويعيد تحديد تجعيد الشعر والتحكم في تجعده.
طريقة الاستخدام:
ضعي القناع الغني المرطب بعد البلسم على الشعر المجفف بالمنشفة ، ضعيه بسخاء على كل الشعر حتى الأطراف. استخدمي مشطًا واسع الأسنان أو فرشاة لفك تشابك الشعر ، ثم اتركيه لمدة 5 إلى 10 دقائق ، حسب مسامية الشعر ، واشطفه جيدًا.