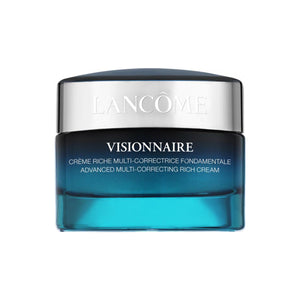 LANCOME VISIONNAIR ADVANCED MULTI CORRECTING RICH CREAM SPF20 50ML a daily anti-aging moisturizer with the added benefit of SPF 20 that improves the appearance of wrinkles and skin texture while providing 24-hour hydration for visibly smoother and plumped skin.

What it does:
This day cream immerses your skin in comfort and 24-hour hydration, and is formulated with proprietary LR2412 jasmonate for advanced multi-correction. SPF 20 provides additional sun protection to protect against future damage caused by UVA rays. The formula locks in moisture for 24 hours while visibly plumping and softening skin and boosting luminosity and bounce. Its luxurious silky cream texture melts on skin for an ultimate comfortable feeling.
لانكوم فيسنوير مرطب غني اس بي اف 20 50مل مرطب يومي مضاد للشيخوخة مع فائدة إضافية لعامل الحماية من الشمس 20 الذي يحسن مظهر التجاعيد وملمس البشرة مع توفير ترطيب على مدار 24 ساعة للحصول على بشرة أكثر نعومة وامتلاءً.
ماذا يفعل:
يغمر كريم النهار هذا بشرتك بالراحة والترطيب على مدار 24 ساعة ، وقد تمت صياغته باستخدام Jasmonate LR2412 لتصحيح متطور متعدد. يوفر SPF 20 حماية إضافية من أشعة الشمس للحماية من الأضرار المستقبلية التي تسببها الأشعة فوق البنفسجية. تعمل هذه التركيبة على الاحتفاظ بالرطوبة لمدة 24 ساعة بينما تعمل على تنعيم البشرة وتنعيمها بشكل واضح وتعزز اللمعان والارتداد. يذوب قوامه الكريمي الفاخر على البشرة ليمنحك شعورًا بالراحة المطلقة.