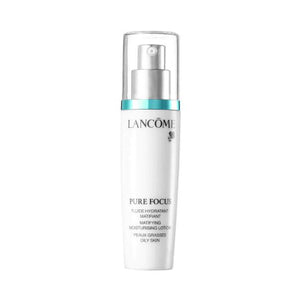 Lancome Pure Focus Face Cream Moistuirizing Fluid For Oily Skin 50ml bienfait Pure Focus provides ideal moisturizing and perfect shine control thanks to this fresh, non-greasy, water-light fluid that absorbs immediately into the skin for a soft, powder fresh finish.
A pure caress for oily skin, leaving it perfectly hydrated all day long by targeting only those areas where hydration is needed. Leaves skin feeling fresh and matte all day long.
لانكوم بيور كريم مرطب 50 مل يوفر Bienfait Pure Focus ترطيبًا مثاليًا وتحكمًا مثاليًا في اللمعان بفضل هذا السائل المنعش غير الدهني والماء الخفيف الذي يمتص على الفور في الجلد للحصول على لمسة نهائية ناعمة ومسحوق. عناق نقي للبشرة الدهنية ، يتركها رطبة تمامًا طوال اليوم من خلال استهداف المناطق التي تحتاج إلى الترطيب فقط. يترك البشرة منتعشة وغير لامعة طوال اليوم.