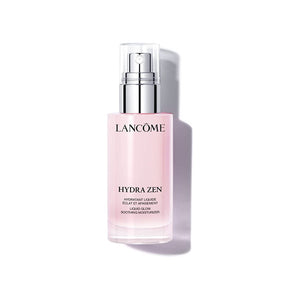 Lancome Hydra Zen Anti Stress Glow Liquid Moisturizer 50ml an active lifestyle and daily skin stresses - like pollution, dry weather and other environmental aggressors - may lead to skin dehydration, discomfort, and dull skin. Lancôme's next generation daily moisturizer with amino acids is formulated to help reduce the appearance of visible signs of stress. Skin seems revitalized, its barrier function strengthened. A lightweight liquid face moisturizer enriched with amino acids, aloe vera, hyaluronic acid, and rose extract.
The formula is designed to:
- soothe skin feel and help protect skin against external aggressions;
- retain moisture for up to 24H skin hydration;
- unleash a healthy-looking skin glow.
لانكوم هايدرا زين جلو مرطب 50مل قد يؤدي نمط الحياة النشط والضغوط اليومية للبشرة - مثل التلوث والطقس الجاف وغير ذلك من العوامل البيئية الضارة - إلى جفاف الجلد وعدم الراحة والبشرة الباهتة. تمت صياغة الجيل التالي من مرطب لانكوم اليومي المحتوي على الأحماض الأمينية للمساعدة في تقليل ظهور علامات الإجهاد المرئية. يبدو الجلد منتعشًا ووظيفة الحاجز الواقي أقوى. مرطب سائل خفيف الوزن للوجه غني بالأحماض الأمينية والصبار وحمض الهيالورونيك وخلاصة الورد.
تم تصميم الصيغة من أجل:
- يهدئ ملمس البشرة ويساعد على حماية البشرة من الاعتداءات الخارجية ؛
- يحتفظ بالرطوبة حتى 24 ساعة من ترطيب البشرة ؛
- يطلق العنان لإشراقة البشرة بمظهر صحي.