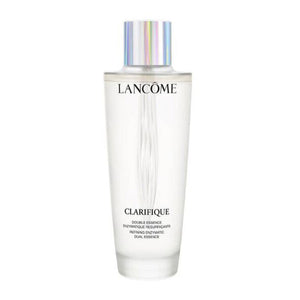 LANCOME CLARIFIQUE DOUBLE ESSENCE REFINING ENZYMATIC DUAL ESSENCE 150ML clarifique visibly improves uneven skin texture & tone while minimizing the appearance of pores. FORMULA: Clarifique works both to exfoliate & nourish the skin. Our dual-acting formula is made of: 
• Clear Active Essence: Infused with Organic Beech Bud Extract, Glycolic Acid, and Salicylic Acid to gently exfoliate the outermost layer of the skin.
• Lipidic Oil Essence: Infused with Grapeseed & Sunflower Seed Oil, rich in omega-6 fatty acids that help to nourish & hydrate the skin.
لانكوم دبل اسينس 150مل يحسن اللارفيك بشكل واضح نسيج البشرة المتفاوت ولونتها مع تقليل ظهور المسام. الصيغة: Clarifique تعمل على تقشير وتغذية البشرة. تركيبتنا مزدوجة المفعول مصنوعة من: • خلاصة نقية نشطة: محمل بخلاصة براعم الزان العضوية وحمض الجليكوليك وحمض الساليسيليك لتقشير الطبقة الخارجية من الجلد بلطف. • خلاصة الزيت الدهني: محمل بزيت بذور العنب وعباد الشمس ، غني بأحماض أوميغا 6 الدهنية التي تساعد على تغذية وترطيب البشرة.