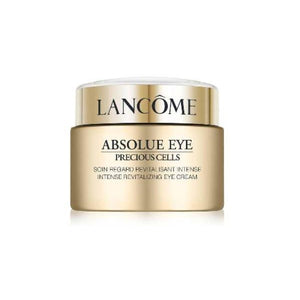 Lancome Absolue Precious Cells Eye Cream 20ml visibly Repairing and Rejuvenating Cream contains a powerful combination of ingredients including Pro–Xylane™. This formula has been shown to hydrate skin. Skin feels denser. The eye area appears repaired and looks visibly rejuvenated.

The Results
The eye contour appears smoother and more radiant.
Day 7, the skin texture looks improved.
Day 28, skin seems denser. Signs of fatigue appear minimized and the appearance of puffiness is reduced. The youthful look of the eye contour is revealed. 
لانكوم سيلز كريم العين 20 مل يحتوي كريم الإصلاح والتجديد الواضح على مزيج قوي من المكونات بما في ذلك Pro – Xylane ™. ثبت أن هذه الصيغة ترطب البشرة. تبدو البشرة أكثر كثافة. تظهر منطقة العين وقد تم إصلاحها وتبدو منتعشة بشكل واضح. النتائج يبدو محيط العين أكثر نعومة وإشراقًا.
اليوم السابع ، تحسن ملمس البشرة.
اليوم 28 ، تبدو البشرة أكثر كثافة. تظهر علامات التعب في حدها الأدنى ويقل ظهور الانتفاخ. يتم الكشف عن المظهر الشبابي لمحيط العين.